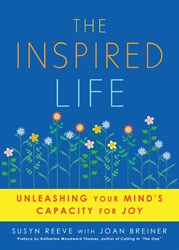 Susyn Reeve, bestselling author of The Inspired Life, was featured on BeliefNet for her expert advice on happier living.
As a teenager Susyn Reeve wrote in her journal, "What would the world be like if everyone loved themselves?" This question has guided her fierce commitment in partnering with clients to expand their capacity to give and receive love by removing their inner obstacles to love and living the life of they desire. She has done this in many roles over her 35 years of experience as a transformational coach, educator, corporate consultant and InterFaith Minister. She is the award winning author of
The Inspired Life: Unleashing Your Mind's Capacity for Joy
.
Susyn was recently featured on BeliefNet as part of the
31 Days of Self-Love Movement,
for Self-Love Month. When asked how she shows herself love, Susyn wrote, "I've created a daily ritual that is based on the idea of starting the day feeling centered, grateful and spiritually connected. My ritual, that I do while sitting in bed, includes the following components: lighting candles, meditating for 20 minutes, writing my 5 major goals, writing 1 thing I am grateful for (something different every day) and 1 thing I appreciate about myself (different than what I've written in the past few days). I wanted to be a dancer when I was a child. In recent years, I felt clumsy and critical of my body. I now go to a dance class where we learn a different dance routine every class. Sometimes I forget which is my right foot and which is my left—and more and more I feel good about myself for just doing it!"
What people are saying about The Inspired Life (available in
Audio
):
Occasionally a book comes along that is so full of wisdom and inspiration that we want to share it with others because it speaks so magnificently in support of the human spirit. Susyn Reeve and Joan Breiner have teamed up to create just such a delightful, concise, and uplifting volume. —ForeWord Reviews
Through the stories, meditations and unique practices in this book, you will learn exactly how to find and maintain inspiration in your daily life. —New Thought Magazine
The Inspired Life is a personal growth experience that compels the reader to take responsibility for making life happen for them, rather than letting life happen to them. This book is full of personal stories, wonderful quotes and practical advice with activities to inspire joyful living. I recommend this book to life coaches and therapists as a guide and a gift to all of our clients. —Bob Younglove President, International Council for Self-Esteem
http://www.prweb.com/releases/2014/01/prweb11522191.htm